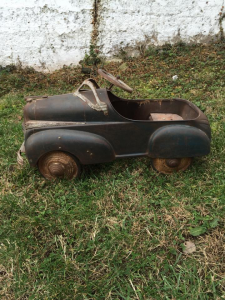 The timeline of the production of toy vehicles runs parallel to the timeline of the auto industry.
Both industries grew after changing to pressed steel instead of cast iron. Steel is easier to work with in manufacturing. And steel is less likely to rust or crack, so consumer goods would last longer.
Toy companies started using the same manufacturing techniques in the wide scale manufacturing of miniature vehicles in the 1920s.
Sales increased throughout the 30s, but it was the post WWII baby-boom that created the biggest boom in demand for toys.
American toy companies enjoyed tremendous growth.
They made dump trucks that had hydraulic lifts that really dumped and fire engines with hoses that pumped water and working police cars and mail trucks.
FYI: During the late 1940s, one of the founders of a company called Mound Metalworks started building toys as a hobby. The company, up to that point, made lawn and garden tools. But they started making toys. Eventually, that's all they made.

The toy division of Mound MetalWorks became Tonka Toys.
---
With so many of the best childhood memories indelibly attached to these toys…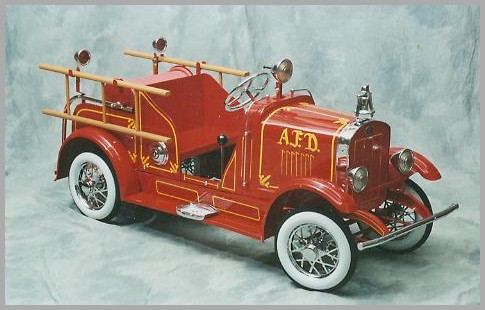 …now there are companies that do nothing but refurbish them.
Check out Portell Restorations Last Chance Garage.
And check out this Pinterest Board for more images of pedal cars:



(If you're not signed up as a Pinterest user, you can still look. But I recommend signing up. Let me know if you want to know how to sign up to Pinterest. Click this link for my email.)
And…more pedal cars here: